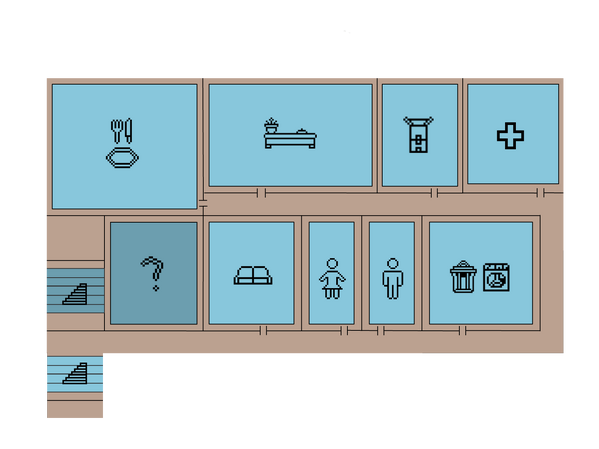 The first floor that the students woke up in, starting at the lobby. From left to right, going up to down, these are the rooms.
Cafeteria-Kitchen
Entrance Lobby
Storage Room
Infirmary
Stairs
???
Lounge
Female Bathroom
Male Bathroom
Trash Room- Laundry
Stairs to Cabin Floor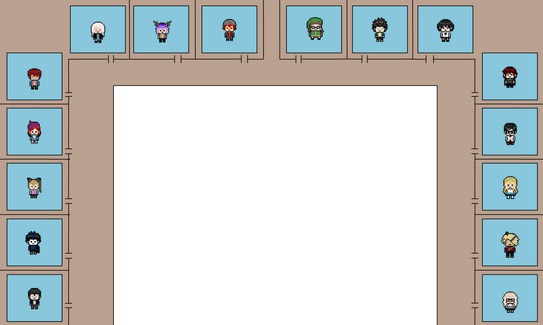 The floor where all of the students have rooms and sleep in. Going from bottom to top, and left to right, the rooms are in this order!
Jirou's Cabin
THUNDERSTRUCK's Cabin
Yuna's Cabin
Rin's Cabin
Ichiko's Cabin
Miyumi's Cabin
Junichi's Cabin
Rokuro's Cabin
You's Cabin
Joshua's Cabin
Requiem's Cabin
Naoya's Cabin
Haru's Cabin
Oshiro's Cabin
Edward's Cabin
Yutsuko's Cabin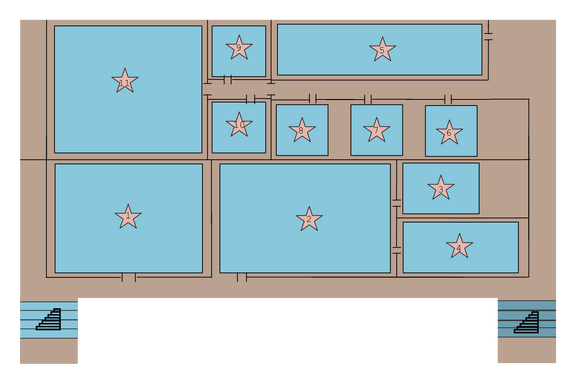 The floor that was unlocked following the death of
Naoya Kanno
and the execution of
Haru Maeda.
Miyumi Kimura
was also murdered in this floor. It has a few puzzles in it, one of which the students have yet to solve. Going from left to right, up to down, these are the rooms.
Spa
Male Changing Room
Freezer Room
Female Changing Room
Karaoke Room #3
Karaoke Room#2
Karaoke Room #1
Banquet Hall
Fitness Room
Yoga Studio
Fitness Storage
Stairs to Floor 1
Stairs to ...?